2016 Honeywick Fall Classic
December 7, 2016

-

December 10, 2016
Join us for some great squash!
Match play is anticipated to commence (depending on entry numbers) Weds – 7th Dec at 4pm
Thursday 8th Dec evening – assorted hot and cold appetizers
Friday 9th Dec – evening – assorted hot and cold appetizers
Sat 10th Dec – morning – coffee and bagels (butter, cream cheese and jellies)
Lunch – grilled chicken Caesar and grilled veggie wraps, pasta salad, homemade potato salad
Evening – hot and cold appetizers
All the food and beverages will be in the squash building from the Thursday to the Saturday evening
Gatorade and Beer throughout the weekend!
The tournament favor will be a Harrow Duffle bag!!
---
Updates!
Tournament is over and it was a success!
We witnessed some great, competitive squash in all divisions. Many hard fought doubles matches went to five games.
Results
Division
5.0  Main Draw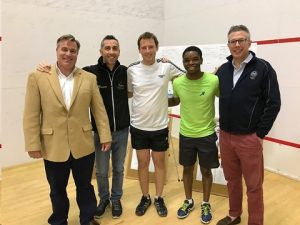 Scott Calder, Winner and Kay Zee Sitshebo, Finalist
5.0 Consolation
Henry Robbins, Winner and Tom Campbell, Finalist
4.5 Main Draw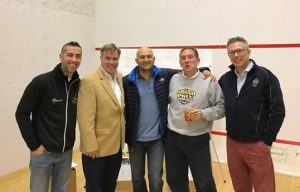 Mohammad Alsorogi, Winner and Gilles Tapolsky, Finalist
4.5 Consolation
Ben Henley, Winner and Brent Boland, Finalist
4.0 Main Draw
Gilles Tapolsky, Winner and John O'Callaghan, Finalist
4.0 Consolation
Christian Juckett, Winner and Max Stefka, Finalist
3.5 Main Draw
George Dick, Winner and Brian Puryear, Finalist
3.5 Consolation
Emma Kate Watts-Roy, Winner and Lawrence Boyce, Finalist
3.0 Main Draw
Jacob McGill, Winner and Jamie Parker Campbell, Finalist
Doubles
A Main Draw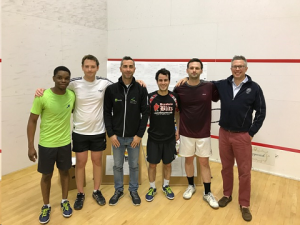 Wells Edinger/Fernando Valdizan, Winners and Magnus Rydberg (Scott Calder sub)/Kay Zee Sitshebo , Finalists
A Consolation
Tom Campbell/Wayne Wilson, Winners and Gilles Tapolsky/Jeff Watts-Roy, Finalists
B Main Draw
Osman Shariff/Ozair Shariff, Winners and Patrick Fulton/Scott Robinson, Finalists
B Consolation
Jim Martin/David Klapheke, Winners and Charles Buddeke/Colin English, Finalists