2017 Kentucky State Open
March 23, 2017

-

March 26, 2017
Kentucky State Open Squash Tournament Results
March 28, 2017
Dear Squash Friends,
Thanks to all who played in the 2017 Kentucky Squash Racquets Association (KSRA) State Squash Tournament, presented by Dodd and Dodd Attorneys, and for the memories! We had 79 entries this weekend.
Congratulations to the finalists:
5.0 Champion Richard Millman Finalist Scott Calder
4.5 Champion Chris Hayden Finalist Ashby Howard
4.0 Champion Jay Embree Finalist Allen Dodd
3.0 Champion Xander Scott Finalist Jacob McGill
Doubles A Champions Jay Hatcher and Graham Baughman
Doubles A Finalists Wells Edinger and Fernando Valdizan
Doubles B Champions PA Howard and Ashby Howard
Doubles B Finalists Marshall Farrar and Christian Juckett
5.0 consolation Champion AlladinMitha Finalist Graham Sievwright
4.5 consolation Champion Ben Henley Finalist Brent Boland
4.0 consolation Champion PA Howard Finalist Brian Puryear
3.0 consolation Champion Harrison Browning Finalist Jake Hinman
Doubles A Consolation Champions Henry Kelsey/Brent Boland
Doubles B Consolation Champions Keith Heustis/Denis Clare
KSRA Most Improved Player of the Year award went to Ashby Howard, and the Ambassador / Sportsmanship Award went to Jeff Watts-Roy.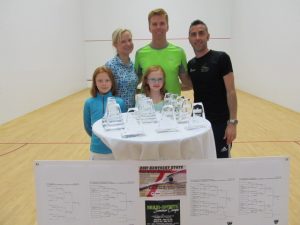 We thank our Tournament Sponsor, Dodd and Dodd Attorneys, as well as our Tournament Director, Lee Scott, for all of his efforts organizing and running our Tournament.
5.0 Finalists
Visitor Richard Millman (left) demonstrated amazing skills in taking over the title from defending champion Scott Calder
Keith Robbins was kind enough to record, produce and share the following video highlighting the 5.0 finals.

4.5 finalists
Chris Hayden is back in fine form, but had to work hard to beat young Ashby Howard!
4.0 Finalists
Jay Embree improved quite a bit this year to win over last year's most improved player, Allen Dodd
3.0 Finalists
Xander Scott in his first Kentucky State Squash open bested Jacob McGill
A Doubles
Champions Jay Hatcher and Graham Baughman (left) had Wells Edinger and Fernando Valdizan sliding all over the court in their hard fought match.
B Doubles Champions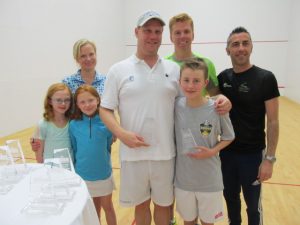 P A Howard and Ashby Howard
See more photos below!
Note, our final event of the year will be the "3 Ring Circus" between the Boat Club and the Pendennis Club on Wednesday, April 12. This will be held at the LBC and is always an entertaining event (for the spectators).
Your KSRA Board of Directors